HOW TO AVOID BAD CONTRACTORS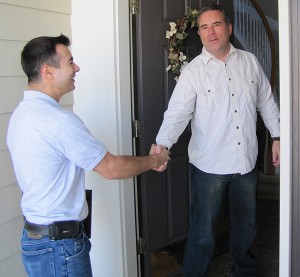 No one wants to get stuck with a bad contractor. Unfortunately roofing companies can be notorious for this. Getting stuck with a bad contractor usually means a project that runs over budget and just never seems to get finished.

Finding a good contractor is no different than finding a good used car. You simply need to do a little research first.

Make sure the contractor provides a written contract. The contract should have specifics like services provided. Lots of fine print in the contract is a big red flag.

CANCELLATION FEES?
Contractors often bury cancellation fees in the fine print of their contracts. If the contract has a cancellation fee, walk away. Cancellation fees serve no purpose other than to hold the consumer hostage.

If the contract does not mention any language regarding liability insurance and worker's compensation, you should request a copy of their liability insurance and worker's compensation. If anything looks fishy like changed dates, call the insurance company.

You want to be sure these "white-out wizards" haven't doctored up a bogus insurance certificate.

HOW LONG HAS THE CONTRACTOR BEEN IN BUSINESS?

Ask the contractor how long they have been in business. The chances of being cheated by a contractor who has been in business for 20 years is much smaller than some contractor who blew into town with the latest hail storm. A 20-year contractor will also have a stronger motivation to honor a warranty.

Let's face it, that storm chaser doesn't care if your problem isn't fixed – they're already chasing the next storm.

The contractor is responsible for permits and inspections. They should be able to speak knowledgeably about permit processes and what to look for during an inspection. If you don't see a permit on your front door before the work begins then you have a big problem.

DO YOUR RESEARCH

Before you sign the contract run an internet search on the contractor and the company. Chances are you will find some information on review sites like Angie's List and Google Reviews.

Keep in mind that people are more apt to write a negative review than a positive review so don't let a few bad reviews scare you off, especially if everything else looks good. But if the contractor's internet search turns up nothing but bad reviews then you should look elsewhere.

Be wary of any contractor that asks for money up front. As the consumer you do not want to pay a cent until the job is complete and you are satisfied. That way, if the contractor does not the complete the work or does a sub-standard job, you still have the money to hire someone else to finish the work.

At Excel Roofing, you Don't Pay A Cent Until You're Content

When you find a contractor that fits this description, feel good about letting them into your home and feel confident you have hired someone who will take care of you from start to finish. Good luck on your next home improvement project!